Seasonal tea
9526
ÉTOILE BLEUE
Herbal tea
TASTING NOTE
Discover this new herbal tea in the image of the Milky Way on which stands out the "Summer Triangle", composed of 3 stars among the brightest in our galaxy. Enjoy a refreshing blend of lemongrass, mallow, chamomile and blue pea with a surprising particularity! This herbal tea has a beautiful blue color reminiscent of the night sky and it will gradually turn pink when you add lemon to it.

Ingredients: Lemongrass, Big Mallow, Chamomile, Blue Pea
ÉTOILE BLEUE
Herbal tea
classé dans : Seasonal tea
TASTING NOTE
Discover this new herbal tea in the image of the Milky Way on which stands out the "Summer Triangle", composed of 3 stars among the brightest in our galaxy. Enjoy a refreshing blend of lemongrass, mallow, chamomile and blue pea with a surprising particularity! This herbal tea has a beautiful blue color reminiscent of the night sky and it will gradually turn pink when you add lemon to it.

Ingredients: Lemongrass, Big Mallow, Chamomile, Blue Pea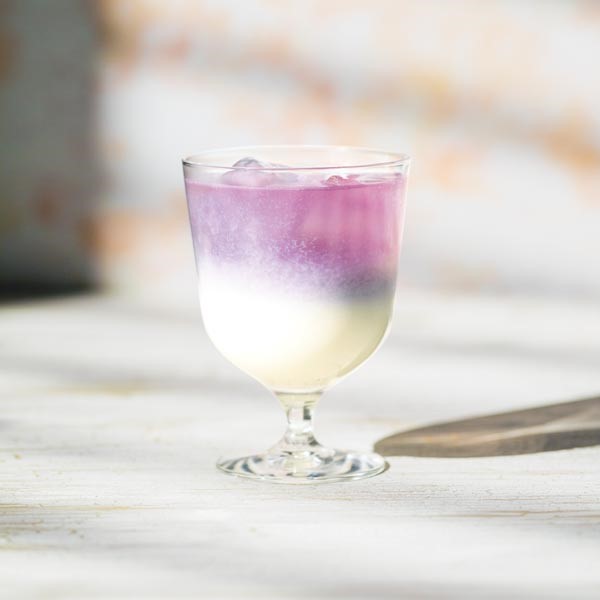 ÉTOILE BLEUE ICED MILK TEA
Iced milk tea featuring a beautiful two-layered shade. The combination of milk and sweetened condensed milk mixed with refreshing lemongrass and mild tasting chamomile make this iced tea the perfect summer companion.

Recommended tea: ÉTOILE BLEUE

Ingredients (for 2 people):
Tea leaves: 1 tea bag, Hot water: 150ml, Lemon juice: appropriate amount, Milk: 150ml, Condensed milk: 50g

Preparation:

Pour 150 ml of boiling water over your infusette tea bag and leave to infuse for 1'30 min.
Transfer to another container and remove the tea bag.
Pour the lemon juice into your infusion and dose until you obtain your favorite color (the color of the infusion will change on contact with the lemon). Let cool.
Mix well the 50g of condensed milk and 150ml of milk.
Put about half of the ice in a glass and pour the milk mixture up to about half of the glass.
Then fill with a little more ice and slowly pour your infusion until you obtain 2 distinct layers.
YOU MAY ALSO BE INTERESTED ...