BECOME A LUPICIA DEALER
OFFER HIGH-END TEAS TO YOUR CUSTOMERS
---
Whether you are a concept store, a delicatessen or a larger distributor, LUPICIA makes part of its catalog of teas and accessories available to enrich your offer.
---

You are a generalist brand, a delicatessen or a concept store,

Resell LUPICIA teas to your customers. We provide you with a selection of teas in 50g metal tins (sold in sets of 12 tins). This selection includes 15 teas from our catalog as well as 9 seasonal teas. It includes teas of all varieties, the great classics, the best-sellers of the LUPICIA house and more original blends.

You wish to offer our teas for tasting and resell them,

All the teas offered for resale are also available in individual tea bags (packaged in boxes of 60 sachets).

FOR MORE INFORMATION

Contact us directly by email using our form or by phone: 01.84.17.66.83

> Make an online request via our form..
> Download our PDF brochure
---
EXTRACT FROM THE RESALE BROCHURE (click to view the complete brochure)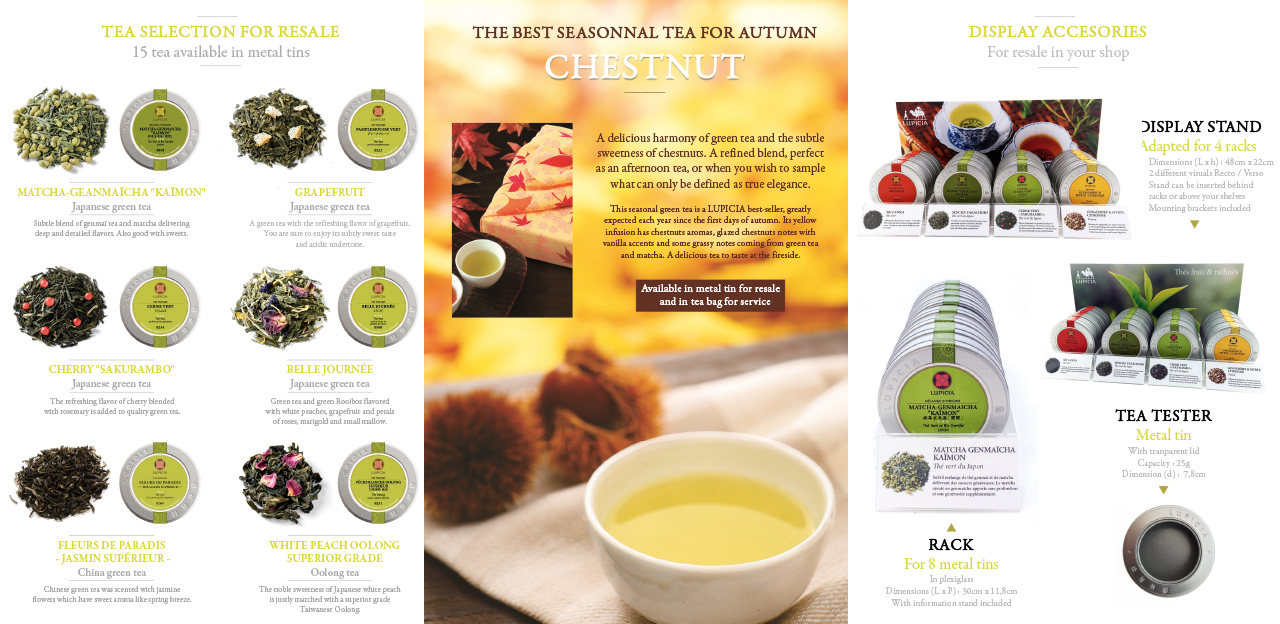 ---
CONTACT US AND TASTE OUR TEAS ON REQUEST,
if you wish to resell our teas in your establishment, we can bring you samples or send them to you by post. Discover the range of LUPICIA teas with our selection of free samples on request.
---
QUALITY TEAS FOR YOUR CUSTOMERS
---
THE BEST GARDENS
To select our tea leaves, we send our sommeliers directly to the producers in the various gardens around the world. If the tea leaves and their liquor meet all our quality criteria, they are sent to the factory.


A RIGOROUS PROCESS
One of the particularities of LUPICIA is to manage the entire manufacturing process, from the purchase of the tea leaves directly to the producers, through the routing, sorting, packaging and up to the retail sale in our shops. LUPICIA is the only house to offer a 6-step tea leaf sorting process that eliminates any foreign bodies within the leaves.


ORIGINAL & DELICATE FLAVORS
The greatest care is taken when composing the flavored teas. Dried fruits, flower petals, spices or even natural flavors are carefully selected. Many tests are carried out in order to find the best balance, both taste and visual, of the teas.



PROTECTIVE ATMOSPHERE
Our commitment to quality has led us to give up selling in bulk in large iron containers. Indeed, the leaves being regularly in contact with the air, lose their initial freshness. The packaging in 50g packets keeps all the qualities of the tea leaves intact as if they had just been picked. In order to keep all the qualities of the leaves intact, our teas are packaged by 50g in a protective atmosphere. This process brings many advantages: It avoids the oxidation of the tea leaves, it makes it possible to preserve the vitamins, it prevents from any change of aroma or color, it avoids any development of bacteria. Conditioned in this way, the tea leaves retain all their freshness and aromatic subtlety.
---
DISCOVER OUR SELECTION OF CANNED TEAS
(On request, we can also provide you with teas outside of this selection and thus open up our entire catalog of teas for resellers.). You can choose, within this selection, "classic" or "decorative" visuals (see associated product sheets).