HOTELS & RESTAURANTS
OFFER LUPICIA TEAS ON YOUR CARD
---
Hotel manager, restaurateur or merchant with a tasting corner in his establishment, LUPICIA offers a selection of teas to satisfy your customers. Fresh and refined teas in tea bags for easy use.
---

YOU ARE A RESTAURANT,

Offer LUPICIA teas to your customers by adding them to your menu. We provide you with a selection of tea bags (sold in boxes of 60 tea bags). This selection brings together 15 teas from our catalog and changes according to demand. It includes teas of all varieties, the great classics, the bestsellers of the LUPICIA tea house as well as more original blends. The entire catalog is also available in bulk.

YOU ARE A HOTEL MANAGER,

Offer LUPICIA teas in different ways: directly in your room, for breakfast or in the dining room. The teas are packaged in tea bags (sold in boxes of 60 tea bags) and / or in bulk according to your needs. We can also provide you with a laminated menu in A5 or A4 format and / or a presentation box.

FOR MORE INFORMATION

Contact us directly by email using our form or by phone: 01.84.17.66.83

> Make an online request via our form.
> Download our brochure in PDF.
---
EXTRACT FROM THE TASTING TEAS BROCHURE (click to view the complete brochure)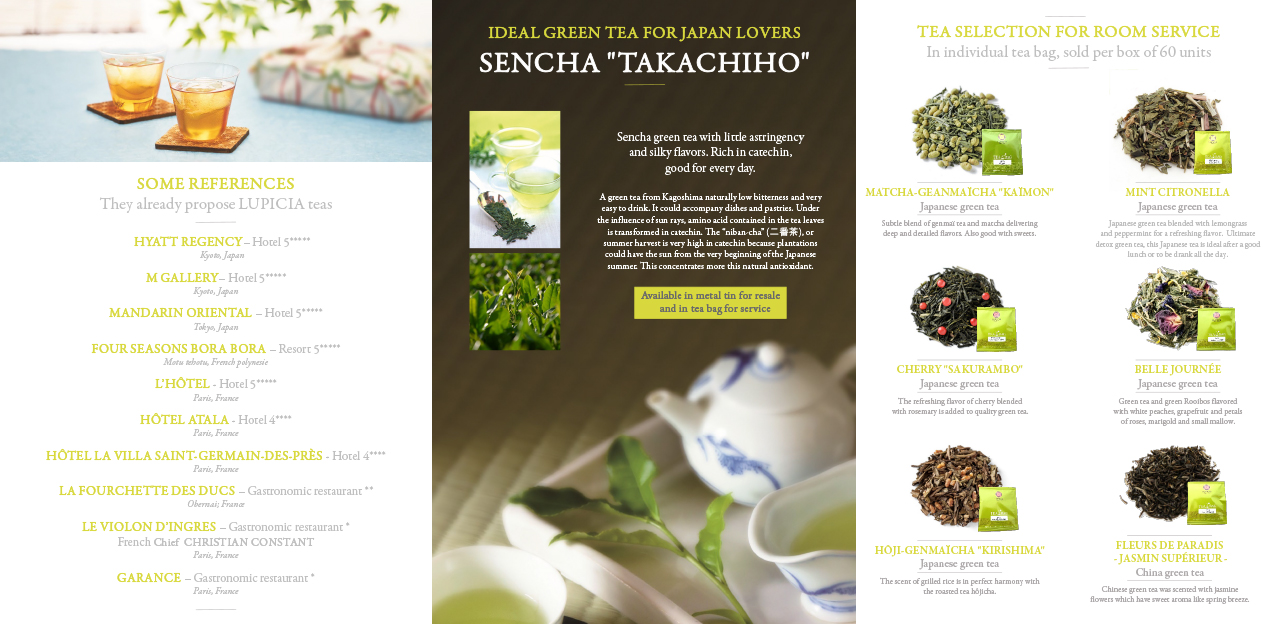 ---
CONTACT US AND TASTE OUR TEAS ON REQUEST,
if you wish to offer our teas in your establishment, we can bring you samples or send them to you by post. Discover the range of LUPICIA teas with our selection of free samples on request.

---
QUALITY TEAS FOR YOUR CUSTOMERS
---
THE BEST GARDENS
To select our tea leaves, we send our sommeliers directly to the producers in the various gardens around the world. If the tea leaves and their liquor meet all our quality criteria, they are sent to the factory.


A RIGOROUS PROCESS
One of the particularities of LUPICIA is to manage the entire manufacturing process, from the purchase of the tea leaves directly to the producers, through the routing, sorting, packaging and up to the retail sale in our shops. LUPICIA is the only house to offer a 6-step tea leaf sorting process that eliminates any foreign bodies within the leaves.


ORIGINAL & DELICATE FLAVORS
The greatest care is taken when composing the flavored teas. Dried fruits, flower petals, spices or even natural flavors are carefully selected. Many tests are carried out in order to find the best balance, both taste and visual, of the teas.


---
DISCOVER OUR SELECTION OF TEAS IN INFUSETTES
(We can also provide you with teas in bulk bags throughout our catalog, on request.)
---